Farma Yakıt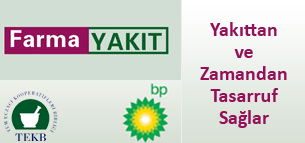 What is Farmayakıt?

Farmayakıt is a service that combines the power of pharmacist cooperatives arising from consumption and enables the members to meet their need for fuel in a more advantageous way. BP Taşıtmatik is presented to the use of cooperative member pharmacists with many special advantages brought by the Farmayakıt service.
Specially for the Cooperative Members
Farmayakıt, with the agreement signed between TEKB and BP, is a service offered specially to the cooperative member pharmacists only.
What are Your Advantages?
Special reduction in fuel expenditures by 5%.
Reflecting this reduction as discount directly from the total fuel amount instead of credits etc.
Obtaining fuel without getting out of your car.
Saving from the time for payment at the fuel station.
Receiving regular, self-invoices, accounting made easier and controlling your fuel expenditures.
For more information, click here.
" Kanaatim odur ki birleşmede muhakkak suretle kuvvet vardır. Kooperatif yapmak maddi ve manevi kuvvetleri, zeka ve maharetleri birleştirmektir. " M. Kemal ATATÜRK